In the post Winner Photo Contest Autumn, I was delighted to announce that the jury voted my picture of the Posbank, as best picture of the autumn contest.  Even more motivated, I sent in pictures for the other 3 seasons resulting in a second place in the winter and spring contest.
To announce the winner of the public vote, all pictures which became first, second or third in the individual season contest, were on display in the town hall. The public was invited to vote for one of the twelve pictures. These pictures showed perfectly the beautiful area we live in.
On November 17, the winner was announced in the town hall and I'm even more delighted and proud that my picture of the Posbank has won the public vote.
I received the prize, a work shop with a professional photographer, from the city council member Nicole Olland.
Off course I would like to congratulate Dick Vermeulen and Eleanoor Donders with their second and third place.
This win was also noted by the local newspaper Regiobode….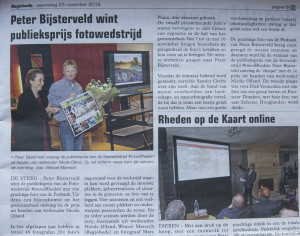 …and by the regional newspaper Gelderlander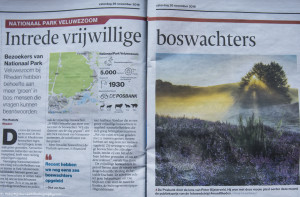 Thanks everyone who was involved in this contest, but a special thanks to Wilma Wijers and the jury Nicole Olland,  Wencel Maresch and Marc Pluim.