On top of my exhibition at the Kunstgemaal, my picture 'After the purple rush' was announced as the winner of the photo contest 'Autumn'.
The contest was organized by the municipality of Rheden, the region were I live. Obviously I'm very proud with this result. On 21st of January, I received the prize in our town hall from the city council member Nicole Olland.
I would like to congratulate Sander Grefte (second)  and Mrs. Donders (third) with their great result.
 Also in the local media there was some interest in this competition
The regional newspaper De Gelderlander: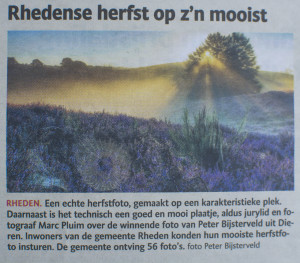 and the regional newspaper Regiobode: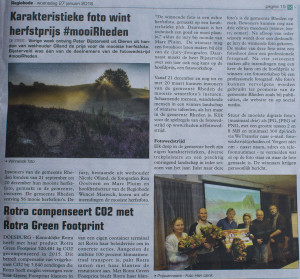 The picture is part of a series taken on the Posbank, which is part of this region. The series can be found in my blog Deep Purple. This particular picture got a lot of attention and positive comments on Facebook, was voted 'Best picture of the week' in the Facebook group 'Most beautiful pictures of the Netherlands'. Also it was published by 1x.com, and finally the icing of the cake ,the picture was published over 2 pages in the British Photo magazine 'Practical Photography ' explaining how to introduce details in landscape photography.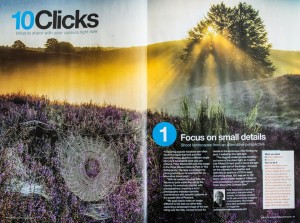 All the attention for this picture has taken me completely by surprise. I just wanted to take a picture of the Posbank that differs from the rest and I think I can say that I succeeded in that.
Thank you all for your support.